Sometimes as a creative you feel things. You can see, feel, hear things that others could not see. It's part of the magic and struggle of creativity to bring these things to life in a way that others can see, feel, hear, smell and taste them too. For those of you who have been here a while, you know that Jungalow is a brand born from a blog. Even though Jungalow has been a digital-first brand since day one, I have always dreamed of bringing Jungalow to the real (offline) world. I envisioned a space where we could connect as a community and create together, inspire each other, and hug each other (especially after experiencing the isolation of the pandemic). For years I have been looking for a physical location for a Jungalow IRL space. Then, in late 2022, I spoke to my brother, Shai, who co-owns Lower berth, located on Melrose Ave in West Hollywood. I asked him what Bottom Bunk did on the second floor (their store is located on the first floor) and he said they occasionally rent it out for events. From time to time, huh? My wheels started turning! This was the first moment I imagined a Jungalow Pop Up in Los Angeles, on the "top bunk" (haha!) of my brother's company. We had our first meeting with the other Bottom Bunk co-owners in February, worked out the details in a few weeks, and started construction in May!
We worked with Jeff, Sue and the incredible team at FTB Design on construction. FTB has a lot of experience designing sets, so they are used to lightning-fast TV production schedules and were not intimidated by what we thought was an ambitious schedule (entering space on May 15 and finish construction in early June).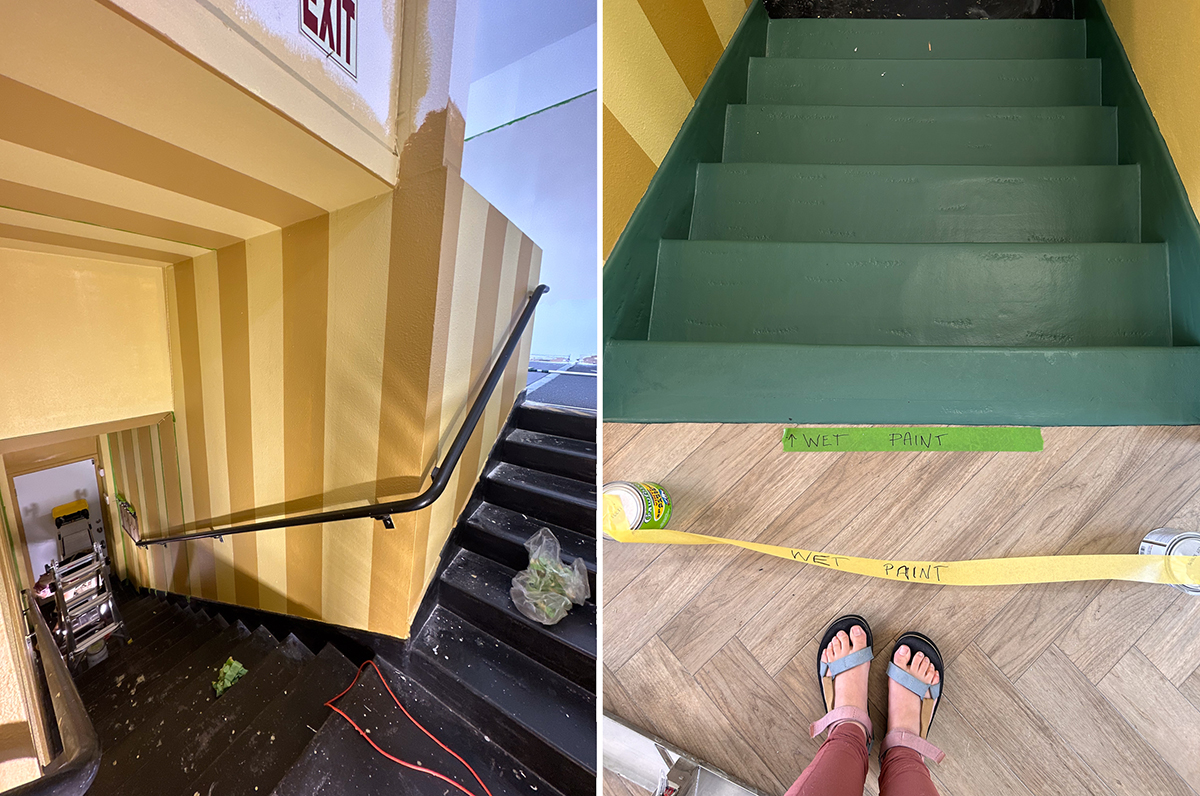 We also worked with my sister, Faith Blakeney, who is an incredible interior designer with attention to detail like no other! Together we created mood boards, chose paint colors and flooring, thought about different architectural details we could add to the space to give it some dimension, and honestly, FTB executed our beautifully vision ! And fun fact, Faith also designed Bottom Bunk!!! So it really is a family affair here!
Since we're on the second floor, we knew we wanted to attract people as soon as they opened the door to the pop-up. It's only been a few days since our launch, but this staircase showcasing our Tiger the print (on a larger scale) seems to be a crowd favorite on social media (thanks everyone for all the love #jungalowpopup!!!).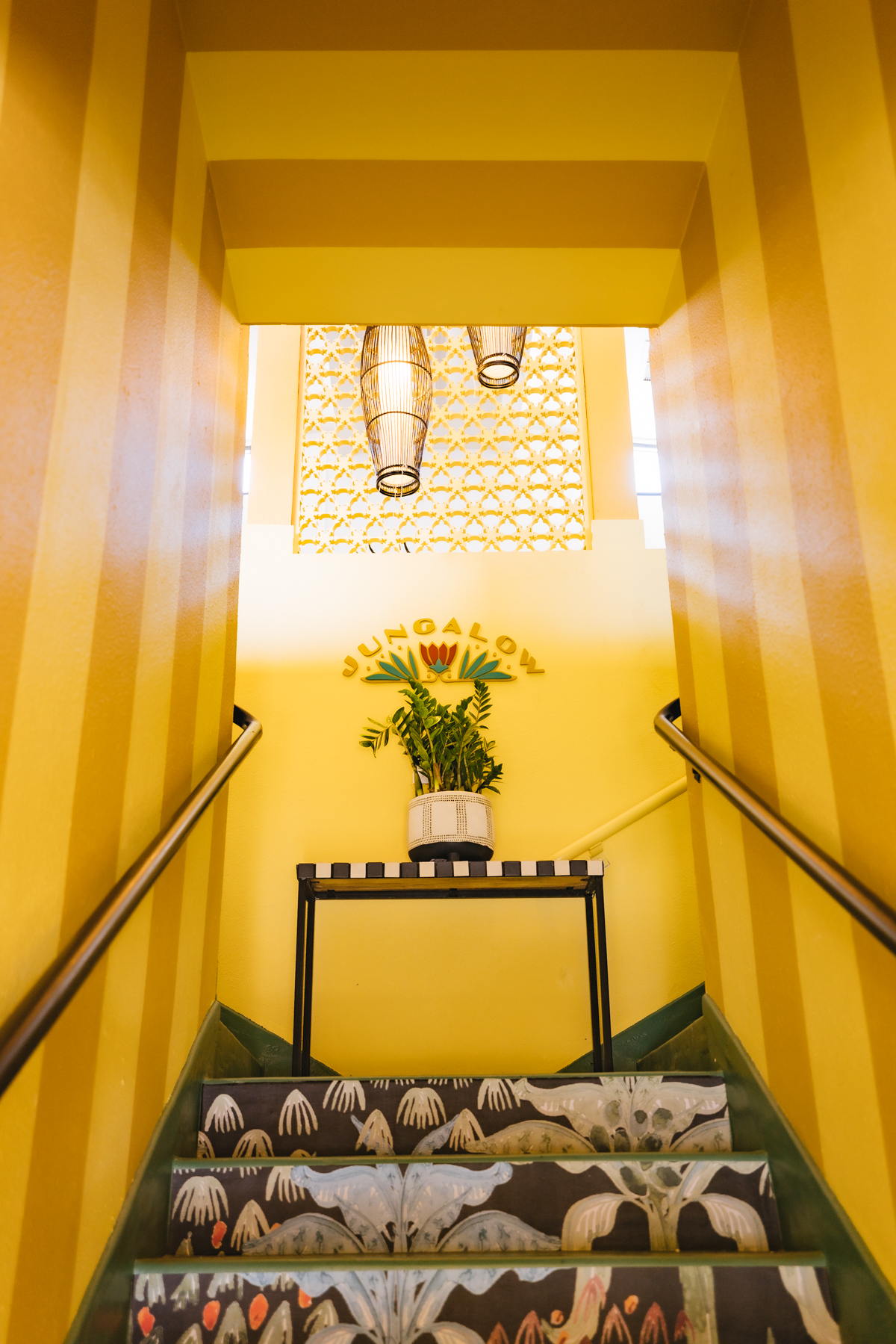 Can we also talk about these scratches? And this trellis?! A little live for this moment of heavenly trellis light!!
We also asked our adorable owner, Serge to Total Charts if he could put some panels for the windows for us. I love seeing our logo on a large scale through the pop-up windows.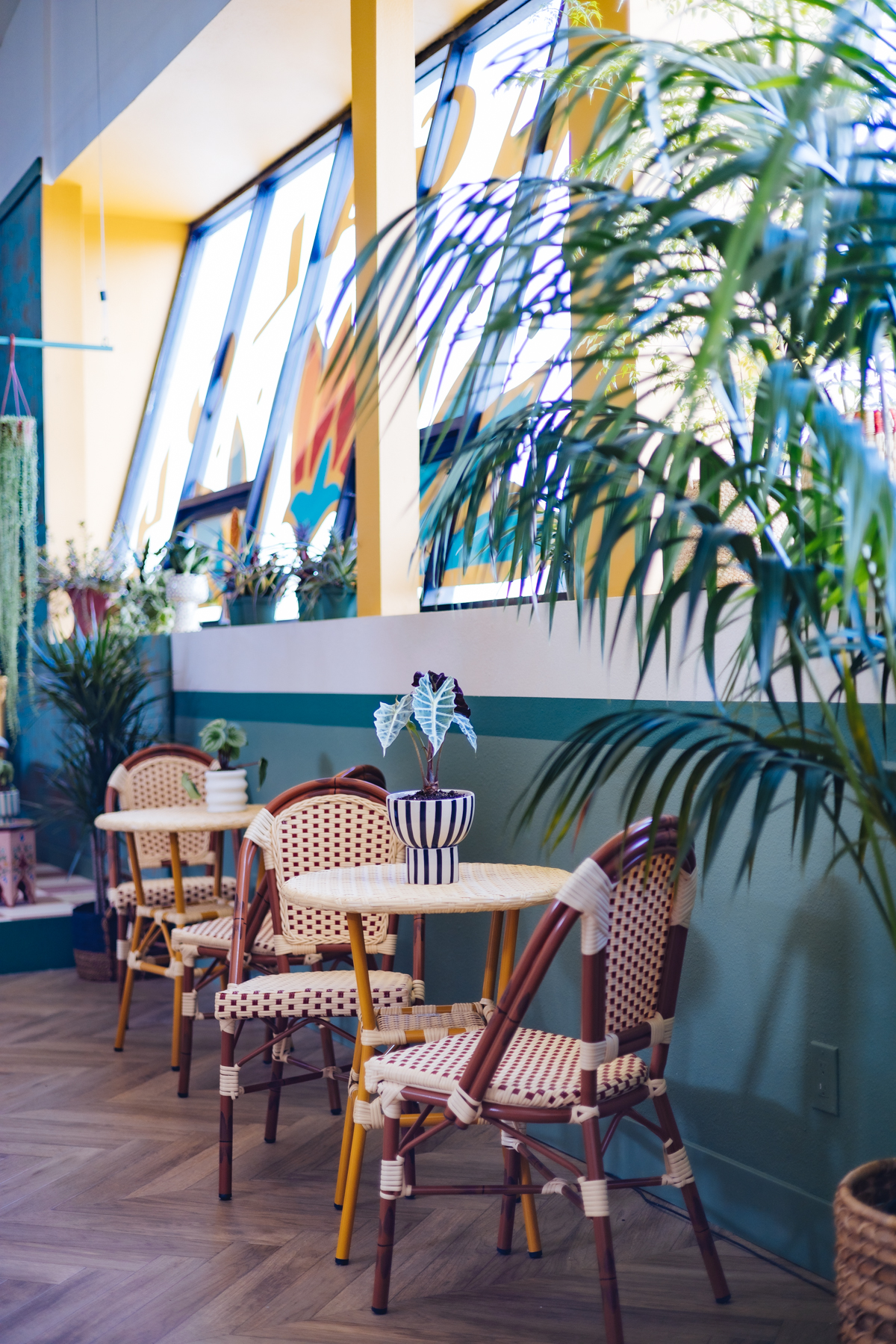 Another one of my favorites: this amazing display and shelf that FTB created for us. You all contributed to its creation too! Remember when we asked you which terracotta paint color to choose? Well Baked Clay won in a landslide, but we decided to go with Spicy Hue for the interior of the shelf to create some depth and visual interest. What do you think?
The pop-up space is reminiscent of a Brooklyn loft I lived in when I was 20 — with a very open floor plan and not a ton of architectural details. So we thought it would be cool to design the bathroom with a raised floor and vintage tile flooring to set it apart from the rest of the space.
This Kohler Artefacts Bathtub in Peachblow, have your moment!! I recently visited the Kohler headquarters in Wisconsin and I was SO inspired seeing the beautiful, timeless designs and colors of their latest collections. They recently brought back some of their heritage colors (Spring green and peach) to celebrate their 150th anniversary and I'm here for the vintage atmosphere!
This magnificent pedestal sink And faucet are also from Kohler and work so well with the checkerboard floor and cosmic desert wallpaper. The modern brushed brass finish of the faucet matches so well with the gold accents of the wallpaper.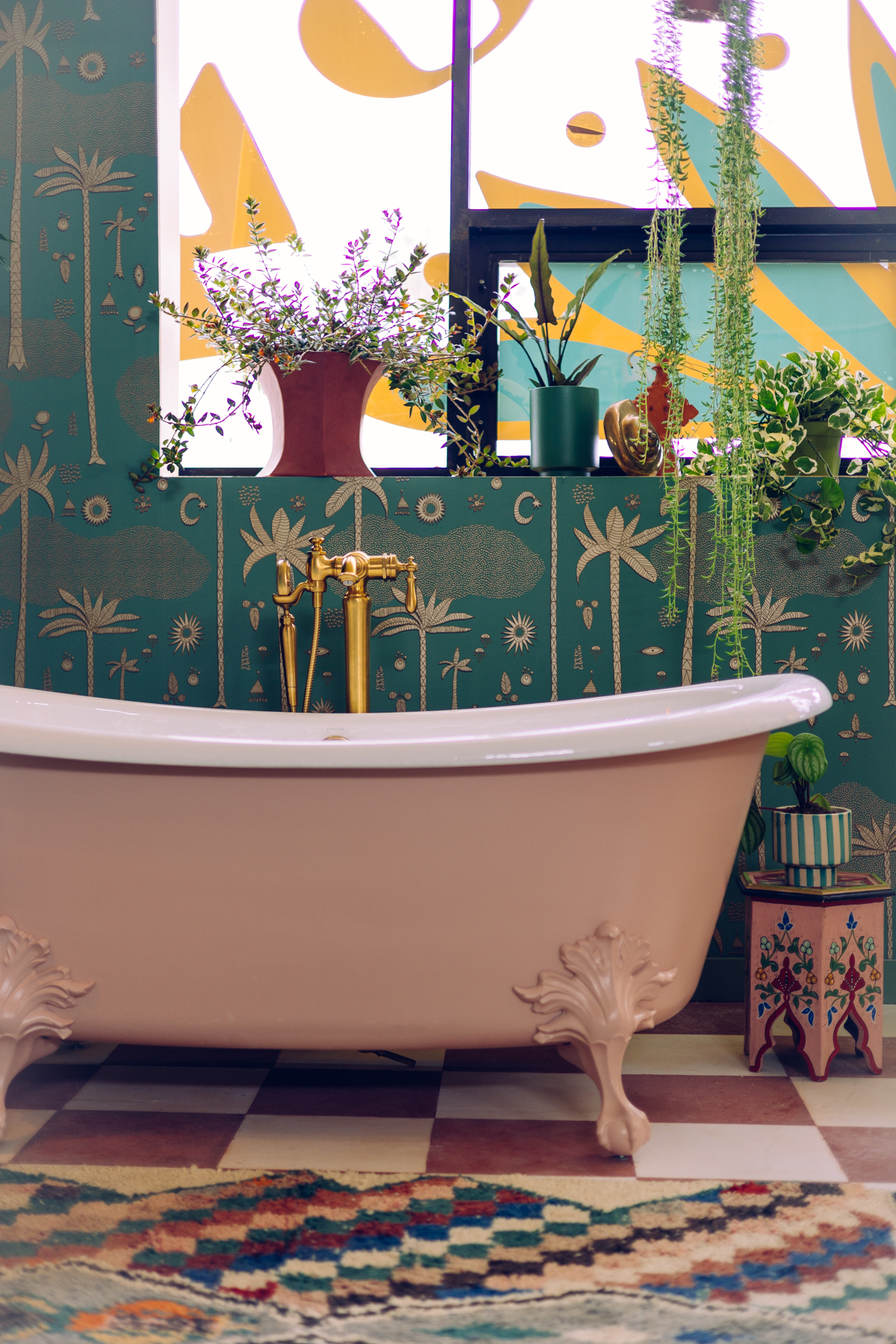 Yes, my daughter!!! Show off those cute little feet! 😉
I might just move in!!!!!
I've been inspired by art deco details lately and find myself referencing them in a lot of my recent designs. This "stepped" detail in the bedroom area is one of my favorite design elements in the space. This creates a crown effect on the bed. Who doesn't want to feel like a queen in their bedroom?
In our living room area we have books, pillows, candles and much more to discover. It's a bright and comfortable place to relax and be inspired (and curious).
You know how when you have people over they always end up in the kitchen? Well, that's kind of true for our bar area. Everyone always ends up hanging out here – probably because there's a vibe!!! We used our Natural Phoenix wallpaper in this area and FTB built this bar from scratch!! We painted in Kale Green and Bay Leaf and honestly, it's sexy AF!
We can't wait to share this creative space with you this summer! Visit our website Or GI future pop-up events and promotions and opening hours. We can't wait to meet you IRL!
Junglelow pop-up!
7521 Melrose Avenue.
Los Angeles, California 90046.
Second floor (Access by stairs only)
Photo credit Dabito